July Newsletter
July 18, 2022
Good Morning Local Food Supporters!
Our first wild month is down and more to come.

First things first - If you have bags for us PLEASE bring them in so we can reuse them!!! We plan to never BUY bags for packing your groceries in so when we run out....it could get a little dicey. Just kidding - we are hoping to inspire you to bring your own OR bring in some that you have been storing and stockpiling. Twenty bags gets you a coffee!!!
 
Sundays at Pip
- Come on down for our Send It Sundays where we do maker pop-ups, music and good vibes!!
In the Shop
- You may have noticed the little photo papers in the fridge and freezer section with a photo of Cathy Bardlsey from Silk Tree Farm. We are growing and expanding our reach and depth when it comes to adding new products and as we do that, we want to make sure we share WHY these particular producers are on our shelves. Our offerings are indeed a reflection of what is available locally and regionally AND we do really love each of the products we are putting on our shelves. As many of you know this really all started as a Meat Club with Weatherlow Farms in Westport so it feels fitting to have one of
our first Maker Features
highlighting another meat producer, Cathy Bardsley from Silk Tree Farm. 
My own personal experience of meat, for so long, had been the industrialized story - the one where there is no craft, there is no knowing your animals and your land, there is a loss of deep observation of your animals and nature in favor of the quick fixes of modern farming and it is the relationship to food where, as a consumer, I can be comfortably disconnected from the life and the living of the farmer and the animal. The idea that I too can gain sustenance from food and meat that has been raised with a big, giant heart, with craft and care and stewardship - is special.
Three things really struck me about Cathy and the Silk Tree Story:
1. That she is doing this on her own 2. That she is kind of a rebel in this space - challenging the norms of livestock production where it is mainly men, the predominant industrial model precludes craftsmanship, curiosity and compassion and 3. She has woven this farming life together by following the seemingly random threads that popped up in her life from a cheesemaking course, to cooking for others to now owning her own farm and bringing young women out to the farm to get their hands dirty and learn the trade. You can read more about Cathy
here
in our feature post.
Two things to note:
1. Pastured meat has more muscle than conventionally raised meat. Like a fine wine, you figure out that they pair well with some methods, might need a little more decanting or marinating etc. It's a new language and a new skill set and we invite you to enjoy!
2. We don't want there to be any surprises at checkout so please do take note of the price/lb. Yes, Silk Tree Meats are expensive. Yes, hyper-local and super small meat production is more expensive and also yes, when you buy Cathy's meat you are supporting a way of farming that sees the animals as beings and not bottom-lines. We aim to support small and also have a few different price points so that you can support local in the way that works for you!
"...When we take the raw materials of the earth and work with them - touch them, manipulate them, taste them, revel in their heady smells and glorious colors, and then through a bit of alchemy transform them into delicious creations-we do honor to the source from whence they sprang. Cooking demands attention, patience and, above all, a respect for the gifts of the earth. It is a form of worship, a way of giving thanks."  - Judith B. Jones, Not for Bread Alone
Without further ado, our first maker feature begins
HERE....
---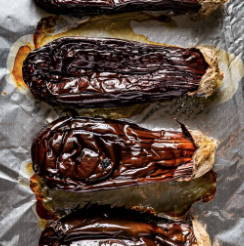 INSPIRATION: EGGPLANTS and BABA
I had given up on eggplants years ago until last summer when Chris came into Pip with the most beautiful, creamy, savory roasted eggplants (the long Asian-style ones from Washashore which will be available again soon). I asked him what the secret was - soaking? salting? what magic did he have to do to make eggplants so delicious? The answer....oven to 375, dice them, coat them in olive oil and salt and throw them in the oven like always for 30-40 minutes. To my complete surprise, he was absolutely right. After all these years of knowing how much better produce can be when it is not grown for the grocery store, I had never revisited eggplants. And the last time I had revisited making my own Baba Ghanouj was 2007 when I threw the eggplant into the oven whole to roast and didn't do the KEY step of poking it with a fork first. Which meant there was exploded eggplant all over the inside of the oven, baked forever more into the steel itself somehow.
Regardless of where you currently stand on eggplants, we have the best of the best coming into the shop so pick some up and grill them, roast them, eggplant parm them, roast them! Add herbs, purée them, make some caponata - there are so many options and a GREAT local eggplant will have the most amazing creamy texture and unique flavor no peeling, no salting and soaking - they are ready to go!
We now have Baba Ghanouj coming out of the Pip Kitchen
so save yourself the roasting and grab some for the next trip to the beach. If you are ready to make your own,
here is an excellent recipe
from none other than NYT Cooking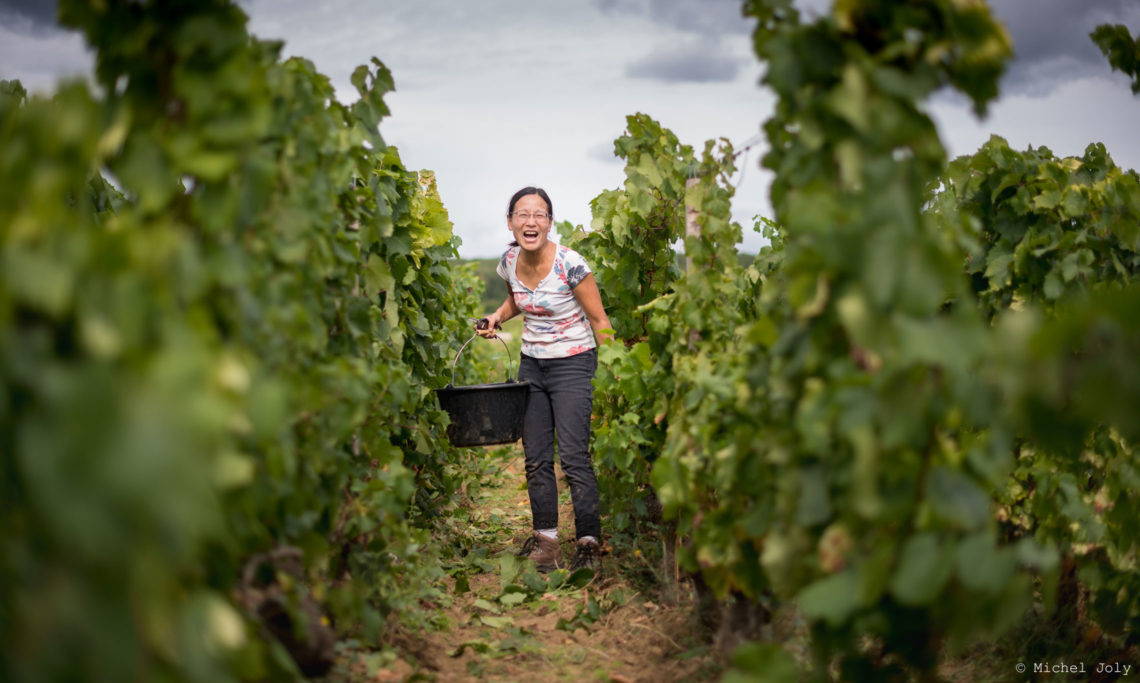 SLEEPER'S PICK: Chanterêves 'Bas des Ees'
I had a bit of a moment the other night while enjoying my friend Kelly's spicy Thai dinner. Not only was I having a freakout over how good of a Thai cook Kelly was, but as the sun set on another gorgeous day I was having this wine. I can't believe how much I love this wine. It's the most surprising sip of white wine I've had this summer and it paired perfectly with spicy green papaya salad and a prime Nantucket sunset. We're very lucky to have this one as it's one of very few cases that made their way to Massachusetts.
Tomoko Kuriyama (Pictured above) is a Japanese winemaker in the heart of Burgundy. This is very uncommon, but Tomoko and her French husband, Guillaume Bott have figured out the recipe for success in biodiverse and organic winemaking. They're a fun-loving and passionate couple who both grew up with wine-loving fathers. Tomoko's father started to take her on trips to Bordeaux and Burgundy and she decided the wine life was for her. She then studied in Germany and later on met Guillaume while working for Simon Bize, one of Burgundy's most famous winemakers. They make some very hard-to-come-by wines and we're lucky to have some of their Aligotè.
Aligoté is considered "the other white grape" of Burgundy. Chardonnay is what you're most likely drinking if you're having white Burgundy, but this sometimes forgotten grape comes to play. This wine has depth and complexity while being playful and fun. The attitude of Tomoko and Guillaume is certainly expressed in this bottling. The wine is bursting with acidity, but it's balanced out with an oily body that creates a lemon curd-like flavor profile. On the nose I get a bouquet of summer flowers with crispy green apples and white peaches. I will also add that every sip was different (especially with the spicy food). This wine is worth the splurge it pairs so beautifully with so much. We had spicy chicken wings, papaya salad, sticky rice, and venison larb, so I mean it when I say it pairs well with everything.
I look forward to chatting with you about this one and its sister wine from a vineyard next door.
---
INSPIRATION: Bartlett's Farm
We are really excited to officially have Bartlett's name on our Local Farm Board and we also inadvertently called out all of Bartlett's produce as organic. Which, not all of Bartlett's produce IS organic BUT more importantly, they reached out with all sorts of detailed information about what they are growing, HOW they are growing it, and why some things are or are not organic. What do we love even more than organic certification? Honesty and Transparency in the food system. When we started this operation we never made a commitment to sourcing everything organically. This is for many reasons ranging from the fact that for some producers, the organic certification process itself is more than they can manage EVEN when they are actually farming organically. Another reason is that some farmers don't get verified because they are going beyond organic and are working towards a way of farming that doesn't just seek out certification but seeks out ways of farming that benefit human AND environmental health. Lastly, we always, always felt that first and foremost, if you shopped locally then you would always have the opportunity to discuss things directly with the farmers and makers in your community and that sometimes those conversations are as important or even more important in building a resilient food system than actual certificates. When we can share what our hopes are as customers directly with the farmers that grow our food and in return they can share their stories....we build a true sense of community and collaboration in building a better food system. So THANK YOU to Bartlett's for the conversation and for the beautiful produce.
Book a Tour to find out more!
Read below to hear the details straight from the Farm:
"We are currently the only farm that has Certified Organic and GAP certified fields on Nantucket and while we are striving to transition all of our fields, we haven't gotten there yet. For veggies, most everything so far have been from certified organic fields; head lettuce, squash, strawberries, herbs, broccoli, beans, cabbage, eggplant, beets, field greens, etc. Field tomatoes are not certified, though fun fact: we use the same farming practices in all of our fields. Our corn, while always non-GMO, is not currently certified. Our hydro system is currently conventional (Baystate Organics does not certify hydro systems). What we "lose" in organic with this system, we gain in sustainability with minimal inputs and the ability to recapture resources in the closed loop system. Greenhouse tomatoes are grown conventionally. We use integrated pest management in our greenhouses to control pests. Our Lilies are not certified but ALL of our field flowers are! We have Flower picking and Pick Your Own Veggie Tours coming up in August and will be a wonderful and educational experience for those who love to eat, cook, and learn about farming and local produce!
I Hope this helps to give you a clearer picture on where we are in the often complicated and confusing world of organically grown produce!"